It's Your Time by Joel Osteen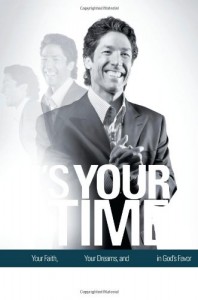 Drawing on the wisdom of several Joel Osteen sermons, It's Your Time is a thought provoking and empowering book. The book is organised into five parts offering a natural and practical framework for self empowerment. Each part is broken down further into an easy to follow format that will engage the reader in a journey of self discovery and self analysis.
Osteen draws upon many real life experiences to emphasize the effectiveness of looking at life from this perspective. He touches on the difficulties that many of us face and demonstrates how these situations can be used to make us stronger. Encouraging the reader to look deep inside, the author demonstrates how to use all life events to achieve empowerment and turn their life around.
Each section of the book builds on what came before offering an effective framework for self improvement. Transcending all faiths yet with an underlying Christian message, the book will appeal to people that are trying to turn their life around. Sparkling with optimism the book teaches us how to look for the positive in every situation and encourages you to believe in yourself.
Section one, entitled 'It's Time To Believe' focuses on grasping the opportunities that life throws at us to enrich and empower. It reaffirms the message Osteen puts forward in his earlier books, that of trusting our lives to God and what He provides for us. The following sections lay down the layers of the message Osteen is putting across. We are encouraged to believe that everything happens for a reason and are shown that how we use these experiences will strengthen the spirit. The book is fundamentally Christian in nature yet Osteen doesn't overplay the workings of God. This widens the audience for the book to those not looking for Christian affirmation and appeals to those that want to change the way they look at life. The final section is truly uplifting for those looking for improvement in their life, echoing the fundamental message in many of his sermons, that of trusting that God will provide us with what we want.

The optimism and encouragement of this book takes the reader on a powerful and self affirming journey that will strengthen and enrich. The book is definitely a worthwhile read for people looking to transform their lives into a positive and enlightening experience.
Rating:

List Price: unavailable
Sale Price: Too low to display.