Joel & Victoria Osteen: 3 Inspiring Messages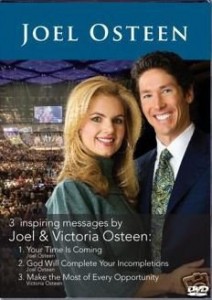 Building upon the success of his books, Joel Osteen along with his wife Victoria, has produced this DVD to inspire people to be all that they can be. Using three messages, the DVD encourages the viewer to believe that God will put into our lives all that we desire, it may not happen all at once but trust that God will do this for us.
Drawing upon many of the themes that run through Joel Osteen sermons, the viewer is reminded that although we may not be aware of it, God has things planned for us. Trust in God and he will provide us with the things that we need and desire. Live how He would want us to live and He will put these things in place for us.
The positivity and optimism that shines in the sermons and books of Joel Osteen can also be tasted here. Osteen's message is one of using all that life gives us in the best possible way to live to our full potential. Expect good to happen in your life and it will happen. Take the best from every situation and use it to grow strengthen your character.
The first of the three messages is that of 'Your Time Is Coming'. Here Osteen is telling us that we need to realise that God does have amazing things in store for us, we need to make the best from every situation and God will lead us towards what we truly want in our lives. We may not yet have all that we desire but God does have it planned for us. When things don't go exactly as we would have hoped for use these experiences to strengthen and enrich.
The second of the messages is 'God Will Complete Your Incompleteness'. Many people feel that they have got lost along the way; they feel that they have not achieved all they can. Osteen is reminding us to have faith in ourselves and in God that we will achieve our full potential.
The third message comes from Victoria Osteen, that of 'Making The Most Of Every Opportunity'. Victoria herself is a shining example of how to live this way, involving herself in a wide range of activities within her community. The author of several books herself, Victoria works alongside husband Joel as co-pastor at Lakewood Church, Houston. Her message is about using every single life experience, taking the best from it and using it to help you grow as a person.

The DVD is an optimistic and uplifting view and will appeal to those that want to bring about changes in their life, enabling them to lead a happier and more fulfilled life.
Rating:

List Price: unavailable
Sale Price: Too low to display.